Sennheiser PC330 G4ME Headset Review
As promised, my Sennheiser PC330 G4ME Headset
review from the discriminating, but subjective perspective of both a gamer and a tech enthusiast. Established in 1945 in Wedemark, Germany, Sennheiser is a world leader in microphone technology, headphone transducer technology, and in the development of active noise-cancellation. Having heard many great things about the Sennheiser brand, I was quite excited to put the PC330 headset through the paces and see if it lived up to my expectations. At $169 MSRP, Sennheiser is marketing the PC330 G4ME towards value-conscious gamers looking to "take it to the next level", falling at the lower range of their "pro gaming" headsets next to the PC333D($239), PC350($229) and PC360($299).
The DJ-inspired PC 330 G4ME is an all-in-one LAN party wonder. Designed for total immersion and intense gaming action, this headset not only looks great, it's also packed with practical features. The closed acoustics keep you focused on the win but you can easily stay in touch with your teammates, too – simply by swinging up the DJ Hinge ear cup.

Another clever feature of the PC 330 is the volume control, which Sennheiser Communications has conveniently integrated directly in the right ear cup. It's a vast improvement on the standard in-line control and cuts out that annoying fumbling around for wires in the middle of a game or Skype session.

Ready for a break? Mute the microphone by raising the boom and relax to music or videos in great Sennheiser sound.
Packaging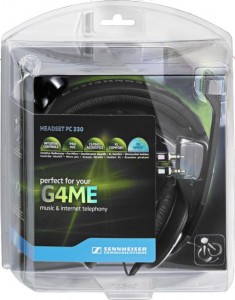 Though not on par with the likes of Apple's famous environmentally-friendly packaging design, Sennheiser safely and securely packages the PC330 headset in transparent plastic. Bonus points are gained for saving me, the consumer, the frustration and hassle of resorting to scissors, knives, or other sharp objects that are sometimes needed to pry items from their packaging.
Geared towards gamers, who infrequently need connectors other than the standard 3.5mm on the PC330, I was not alarmed that a 3.5mm to 1/4″ adapter was not included. However, I was pleasantly surprised to find that a high-quality, leather protective carrying pouch was neatly placed in the package along with the headset.
Special Features
Quick Team Talk – at just a swivel of the DJ Hinge on the right
ear cup, you have direct contact with your teammates
Noise-Canceling Clarity – the professional noise-canceling microphone reduces ambient noise for crystal-clear conversations
Intuitive Design – the volume control is integrated into the right ear cup
Automatic microphone mute – mute the microphone by raising the boom arm
Peace of mind – thanks to the 2-year international warranty
Specifications
Headset PC 330 G4ME

EAN No. 40 44155 04779 0
UPC No. 6 15104 17517 4
Art. No. 504121

General Data

Cable length: 3m / 9.8ft
Connector socket: 2 x 3.5mm for desktop/laptop
Weight: 255g

Headphones

Frequency response: 14–22,000Hz
Impedance: 32Ω
Sound pressure level: 112dB

Microphone

Frequency response 70–15,000Hz
Pick-up pattern: Noise canceling
Impedance: ~2kΩ
Sensitivity: -38dBV/Pa

Accessories

Supplied: Protective carrying pouch
First Impressions
How does it look?
The Sennheiser PC330 headset looks, in a word, amazing. The styling is sleek and modern while carefully avoiding any feelings of pretentiousness. More compact than some other sets of "cans", this headset looks right at home on my desk next to my keyboard, mouse and monitors.
How does it feel?
Putting on the PC330 headset, I immediately noticed the size of the supposedly circumaural ear cups. A quote from Sennheiser:
Perfect fit – XL ear pads and a cushioned headband keep you
going, however long you play
Far from what I would consider "XL", I found the ear cups to be on the smaller side and unable to cover my entire ear. Close, but no cigar, Sennheiser. This is contrast to the Sennheiser HD 280 Pro headset with ear cups that hugged my ears in comfort. Despite the ear cup size, the PC330 felt OK on my head with just the right amount of pressure holding the set in place. I have read that the Sennheiser PC 350
has larger ear cups, but unfortunately come with a larger price tag in return.
Game Experience
Games:
Starcraft II: Wings of Liberty
by Blizzard Entertainment
Call of Duty: Black Ops
by Activision Publishing
If you're thinking about purchasing the Sennheiser PC330 G4ME headset what you really want to know, in addition to how it looks and feels: how is the gaming experience?
The audio reproduction provided by the PC330 headset provided an enjoyable immersive experience. From sound effects and voice acting to ambient effects and sound tracks, I heard and felt each with clear distinction – even in the din of battle. This was especially evident in Starcraft 2, in which verbal cues are often given to draw your attention to a variety of events: from units taking fire, to insufficient funds and supply limitations, to the unique phrases uttered by each type of unit as it is produced. While high- and mid-ranges were especially clear and crisp, I found the bass slightly lacking. This may be due to the games themselves, but I found similar observations reported by other reviewers. While listening to music known to be heavy on the lower frequencies, I had similar experiences. Compared to lower-quality headsets, however, even the bass is reproduced exceptionally.
Call of Duty: Black Ops (and other first-person shooters) benefit greatly from the clarity provided by the headset. Hearing your enemies' footfalls as they stealthily approach and determining the direction of gunfire and explosions are both aided greatly by the accuracy of the PC330 headset. Voice communications(via Ventrilo or Skype) cut clearly through the game sound, helping me discern instructions while surrounded by a cacophony of other noises.
Providing decent sound isolation(which I can't help but mention could have been so much better had the cups been just a half inch larger), I immediately discovered the convenience of the "DJ Hinge" when pausing "the action" to have discussions with those around me(such as my lovely wife and son). What initially appeared gimmicky and potentially uncomfortable, was instead perfectly engineered to allow the ear cup to slide gently back on my head while still providing enough pressure to keep the rest of the headset in place until I moved the cup back. Having previously used an open-air headset, it did take some time to get used to the way my own voice sounded distant as a result of the sound isolation from the ear cups.
The microphone arm has a solid feel to it, staying in place exactly where it is positioned – no sliding down over time. Muting the microphone was conveniently achieved by simply raising the arm up until an audible "click" is heard. Combined with the DJ hinge, I found that it was much more convenient to take phone calls in the middle of gaming without fumbling for mute switches or having to take the headset off. The high-quality construction of the PC330 G4ME headset was proven again and again as my test continued.
One slight design "hiccup", the volume control built-in to the ear cup is made of a high-gloss material and is sometimes too smooth to adjust with one finger. Had it been given a matte finish, or even a larger finger indentation, this minor flaw could have been avoided.
Music Experience
Albums:
Systematic Chaos by Dream Theater

A Love Supreme by John Coltrane

Paradise Lost by Symphony X
Sennheiser's PC330 headset provides excellent clarity and precision while listening to a variety of musical genres. Acoustically "busy" tracks were reproduced beautifully, giving clear definition to each voice and instrument. Especially inspiring were the reproductions of John Coltrane's saxophone skills which were incredibly rich and breathy- almost like I was in the recording studio. My only nitpick, as noted in the "Game Experience" portion of this review, is that the low-end was not accentuated by the PC330 as much as other high-end headsets (the Sennheiser HD 280 Pro, for example); however, it did not detract from the overall experience. In fact, I still "felt" the kick drums thumping away as I listened to my collection of Progressive Metal / Progressive Rock from the likes of Dream Theater and Symphony X.
From a gamer's perspective(incidentally, Sennheiser's target consumer) the musical experience is secondary only to the game experience. Let's be honest, I purchased this headset to enhance my gaming experience – to hear quiet footsteps in the next room, discern the originating point of the bullets flying overhead, catch each auditory cue that games throw your way; I want to be communicating with my friends and teammates, too. If I am listening to music while gaming, it is most likely to be a soundtrack to the game itself serving only to round out the auditory experience and set mood. Or… maybe that I don't care about any of those things and am perhaps engaged in a rousing round of solitaire or banging my head against the latest Angry Birds level; in either of those cases I am not likely to be wearing a headset. To each their own, I suppose.
Conclusion
The Sennheiser PC330 G4ME headset is a joy to use. Flawless construction provides a headset that feels solid in your hands and on your head: from the cushioned ear cups and head-strap to the "DJ hinge" and flip-up microphone. The acoustics provided by the PC330 headset are head and shoulders above (no pun intended) your "run-of-the-mill", consumer-grade headsets and step firmly into the realm of pro gamer and tech enthusiast both.
Unfortunately, the ear cups are too small to fit around my ear in a truly circumaural fashion, yet too large to sit comfortably on top. It's not a deal-breaker, but it does detract from the overall experience and is one of the only flaws I found with the PC330 headset.
If you are considering new headsets, especially for gaming, the PC330 is an excellent starting point for experiencing Sennheiser-level quality. Now available online for around $100(down from the $169 MSRP), they are a bit more affordable and truly offer an excellent value to the gamer looking for more from their headset.
The Sennheiser PC330 G4ME Headset gets an 8.5 out of 10 from me, but I would have happily given it at 9.5 out of 10 had it not been for the unfortunately sized ear cups.